Meals for £1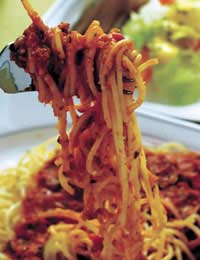 Most students are on a fairly tight budget and food often gets pushed aside in favour of other more pressing, expenses. As such, it's easy to slip into bad habits and live off cheap takeaway meals and quick-fix junk food. However, with just a little budgeting and planning it's possible to create some delicious meals for under £1. To put it into perspective, that's less than a portion of chips or half a pint of lager! All of the following meal ideas will cost you less than £1 for an average serving.
Baked Potato and Beans
This classic student dish has a deserved reputation for being a filling and cheap dinner option. Spuds are great value for money as they're also very nutritious. If you use supermarket own-brand beans, you can even add grated cheese on top and still come in under budget!
Pasta with Tomato and Chilli Sauce
Pasta is another cheap option. Most bags of regular pasta shapes cost well under £1 and an average 500g bag will be sufficient to make about four meals. This makes it really good value for money. For a delicious economical sauce, fry a small onion and half a chopped red chilli (or according to taste). Add a small can of chopped tomatoes and plenty of freshly ground black pepper. Delicious!
Cheese Omelette and Homemade Chips
A couple of eggs, a bit of cheese and some spuds - it's under budget but it will taste great. All you need to do is whisk 2 eggs in a bowl with a dash of milk and some salt and pepper. Grate some cheese into a separate bowl and peel and chop 2 medium potatoes into chip shapes. Preheat the oven to medium, par-boil the chips for a couple of minutes then drizzle with a little oil and pop in the oven on an ovenproof tray. These will take about 30 minutes to cook, so don't start the omelette until they're almost done. For the omelette, melt a little butter in a small non-stick frying pan then pour in the eggs and cook over the heat until set and cooked. Sprinkle over the cheese and fold the omelette in half if you're feeling brave. Serve with the chips.
Huevos Rancheros
This is a variation of the classic Mexican breakfast dish. It makes a great brunch or dinner meal and it's really easy. Chop a small onion and fry in a little oil, add 1 chopped garlic clove, _ a chopped green chilli (or according to taste) and 2-3 chopped tomatoes. Cook until the ingredients are softened and blending together then carefully break an egg on top of the ingredients. Heat until the egg is cooked through then gently slide the ingredients everything onto a serving plate.
There are many other dishes that can be put together for under £1 - these are just some ideas to get you started. For example, many pasta and rice dishes cost just pence to make. Basic ingredients such as chillies, garlic, sun-dried tomatoes, herbs and shallots can be used to increase the flavour and vegetables can be cooked in bulk to make large batches of sauce very cheaply. Just divide the sauce into portions and freeze it.
You might also like...
Bb - Your Question:
Students don't have luxrys like oil and an onion just hanging about or pepper
---
Our Response:
1 litre of vegetable oil can be bought for around 89p (this will last for a couple of months), an onion is about 16p and a pepper would cost about 25p. Not luxuries at all, just a matter of sensible shopping and cooking from scratch.
StudentCook
- 18-Sep-15 @ 11:57 AM
Students don't have luxrys like oil and an onion just hanging about or pepper