How to Make Basic Sauces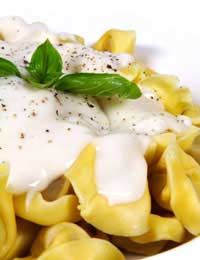 Having a couple of classic sauce recipes up your sleeve will help tremendously when it comes to livening up bland dishes or creating something exciting out of leftovers or odds and ends in the fridge.
Classic Cheese Sauce
This is a really versatile sauce that can be used for everything from lasagne to cauliflower cheese and for pouring over cooked meat. It's quick and easy to make and once you've tried it you'll never go back to packet sauces again.
Ingredients
600ml milk (that's a pint to you and me)
40g plain flour
40g butter
75g Cheddar cheese grated (the stronger the better)
Salt and freshly ground black pepper
Method
Mix the flour with enough of the milk to create a paste then very gradually add the rest of the milk, using a whisk to stir it constantly so you don't get any lumps.
Pour into a pan and heat gently, adding the butter. Increase the heat and stir constantly until the sauce begins to simmer and thicken.
Keep stirring for about 3-4 minutes, until it's a good consistency. Sprinkle in the cheese and seasoning and stir until it has melted. That's it!
Tomato Sauce
This is a great staple for any kind of pasta shape and you can add all sorts of other ingredients to this basic recipe, such as chilli, olives, mince meat or cooked chicken.

Ingredients
1 tbsp extra virgin olive oil
1 small onion, finely chopped
2 garlic cloves, finely chopped
1 large can chopped tomatoes
25g fresh basil, roughly chopped
Method
Heat the oil in a large shallow pan and fry the onion over a gentle heat for about 5 minutes.
Add the garlic, cook for 1 minute then stir in the tomatoes.
Increase the heat to a simmer and cook for about 5 minutes, then stir in the chopped basil. Stir and serve.
Vinaigrette Salad Dressing
This popular salad dressing can be used to accompany all kinds of hot and cold salad dishes.

Ingredients
1 tsp grainy mustard
1 clove garlic, very finely chopped
2 tablespoons white wine vinegar
4 tablespoons extra virgin olive oil
Large pinch of salt
Freshly ground black pepper
Method
Place all the ingredients in a clean, screw-top jar, secure the lid tightly and shake it vigorously for about 30 seconds.
Alternatively, you can put all the ingredients in a small bowl and whisk until combined.
Pesto
Great for pasta or drizzled over roasted vegetables. It also works well as an accompaniment to grilled fish or chicken.

Ingredients
25g pine nuts, toasted
25g freshly grated Parmesan cheese
1 garlic clove, very finely chopped
50g fresh basil
75ml extra virgin olive oil
Salt and freshly ground black pepper
If you've got a food processor just put the pine nuts, Parmesan, garlic and basil leaves into the bowl and process.
Gradually add the olive oil, whilst still processing and you'll see the sauce begin to thicken.
If you don't have a food processor, use a pestle and mortar to make a paste from the first four ingredients then transfer to a large bowl and gradually add the oil while whisking constantly.
These classic sauce recipes should help to liven up dinners and you can get creative with the basic recipes and add your own twists.
You might also like...
nice, but i think it would be better if you had, like, satay sauce, and garlic dip. but still, nice.
haha
- 12-Apr-20 @ 1:33 PM
I love your interpretation of thebasic cooking terms, very simple and easy to understand, same with your recipes so simple and easy to make.Thumbs up for you. God bless!
Wing
- 7-Aug-11 @ 7:08 AM