Dinner in 10 Minutes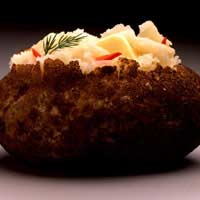 It might sound impossible without ducking into the local chip shop but you can actually create delicious meals from scratch in 10 minutes or less.
Get Organised
You'll need to be very organised in order to create dinner in such a short timeframe but as long as you have all your ingredients to hand and know exactly what you're doing it shouldn't be a problem. Get jars, packets and packaging open before you begin and it's also a good idea to chop and prepare any ingredients first as well so you don't have to interrupt the actual cooking. While you won't be able to prepare most meat dishes in just a few minutes, you can make plenty of pasta and veggie meals and there's always the option of using cooked meat or prawns to save on cooking times.
Baked Potato
This is a real staple standby and will be ready well within the 10-minute deadline. Baked potatoes make a filling and nutritious meal so they're perfect for a quick dinner before a night out. Wash and prick the potato and cook in the microwave for about 8-10 minutes, depending on the size of the potato and the power of your microwave. Meanwhile, prepare one of the following fillings:
Mix a can of tuna with half a can of sweetcorn and 1 tbsp of mayonnaise.
Mix a handful of cooked, peeled prawns with a little mayonnaise.
Heat a small can of baked beans and grate some cheddar cheese.
Pasta and Sauce
You can now buy a variety of quick-cook pastas or ready-cooked varieties that simply need to be reheated in the microwave. For a hearty meal, just prepare the pasta according to packet instructions and, while it's cooking, prepare the sauce. For a really quick fix, you can use a jar of sauce. However, it is possible to make your own.
Fry 1 garlic clove in a little olive oil, add a small can of chopped tomatoes and bring to a simmer.
Add a couple of chopped anchovies and serve with the pasta.
Prawn Stir Fry
Stir-fries are really quick to prepare and cook and you can choose any vegetables that you like. Vegetarians should just substitute the prawns for extra veggies. Heat a little vegetable oil in a wok or large pan. Add the following ingredients in this order, leaving about 30 seconds between each:
1 chopped red pepper,
1 handful of mange tout (halved),
6 baby corn (halved),
3 chopped spring onions,
2 handfuls of bean sprouts
1 handful of cooked, peeled prawns.
Add soy sauce or your choice of stir-fry sauce and finally, 2 portions of 'straight to wok' noodles.
Cook, stirring, for a few more minutes and serve.
There's no need to resort to unhealthy snacks and takeaways every night just because you don't think you have time to cook. These meals prove that it's possible to create delicious meals in minutes, so you can eat well without eating into precious socialising time! They're all cheap and easy to make as well, so you won't be denting your food budget too much.
You might also like...
What else can you do with jacket potato I have butter and a bit of gravy with mine
sissy
- 16-Jun-17 @ 12:30 AM