Food on the Go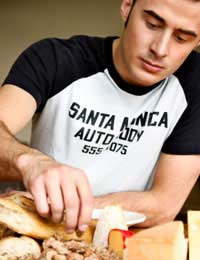 Sometimes there are just not enough hours in the day and although your stomach might be trying to tell you that it's time for a nice big meal you just don't have time to queue up at the canteen or go home and cook something. So, how can you keep the rumblings at bay when you're out and about?
Junk Food
The quickest and easiest thing to do is pop into the nearest shop and buy a load of crisps, soft drinks and chocolate. If can stop yourself from doing this then you really should try. You won't be doing your body any favours by tricking it with a quick sugar fix and some false carbohydrates. You might feel full for an hour or so but once the sugar has run its course, you'll be hungry again.
If you really can't wait any longer then by all means duck into the shop but try to think about what you're choosing. Mineral water or fruit juice would be a much better choice than a soft drink. Choose a packet of nuts (preferably unsalted) instead of your usual packet of crisps and then opt for a cereal bar instead of a chocolate bar. You've immediately got some snacks that contain a bit of goodness and will be giving you some much-needed slow-release energy. This should hopefully keep you going until you can sit down and have a proper meal later on.
Preparation Time
If you've got time to pop home and grab a bite or just take something from the fridge before you dash out again, you should also have a think about what's going to be better for you. A couple of pieces of fruit, a hunk of cheese, a hastily buttered slice of bread or a bagel - none of these snacks are beyond the realms of possibility in a student household but they'll be much better than heading straight for that open packet of biscuits or the variety pack of crisps.
Take it Away
If you go straight out to the pub and don't have time to eat then chances are you'll feel a little peckish later on. It's very difficult to think healthily when you've had a few beers and you're really hungry. However, if a large kebab seems like a great idea at the time, try to imagine how it might feel the next morning and think of some other alternatives that will be a little lighter on your stomach. A plain rice dish from a Chinese takeaway is one option, as is a bagel or baguette, if you have an outlet near by. Smoothie bars provide a great stopgap, if you can make do with a smoothie until you get home and can prepare some food. The vitamin boost from the fruit should help to alleviate some of the potential hangover pain, as well. If it simply has to be a takeaway, make sure you go to a reputable establishment and don't go crazy with the chilli sauce and pickles!
You might also like...