Organising Your Kitchen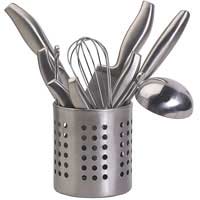 Before you switch off and assume that this article is going to be all about cleaning stop! While cleanliness in the kitchen is obviously very important - not just for aesthetics but also for the benefit of you and your housemates' health - it's not the only consideration. You could almost liken the state of your kitchen to the state of your studies: keep both organised and ordered and you'll go a long way!
Know your Tools
If you don't know what equipment lies lurking in the kitchen, or what state it's going to be in once you locate it, that quick bite to eat could end up taking hours to prepare, being very stressful and tasting like you've gone outside and scraped it off the road. The fact that you might not have the most modern kitchen facilities or the latest gadgets really won't matter when it comes to cooking a decent meal. The important thing is that you've got the basics and you know where to find them.
The time to get organised is when you first move in. Don't just empty boxes of cutlery and utensils into the first free drawer you find. It's best to wait until everyone has arrived and unloaded their stuff, then you can assess what you've got and where it should all go. It sounds obvious but make sure all the cupboards are empty of food and unwanted or broken junk from previous tenants. Have a good clean then you can start to sort out your kitchen.
A Place for Everything
Spending a bit of time arranging everything now will save time and energy in the long term. You should decide which appliances, pots, pans etc you'll be using the most and then store these in the most accessible cupboards. There's no point having every single item within easy reach, only to have the cupboards packed to bursting with you having to take everything out to get to the pan at the back whenever you cook a meal. Instead, leave a bit of space for maneuvering, so that all the pans are easy to access.
Keep your work surfaces free of clutter and don't cram them full of all the appliances or utensils that won't fit anywhere else. You'll need plenty of free space for preparing food, especially if you're in a shared house where a number of people might want to cook at the same time. A bread bin and a utensil holder or rack are good ideas, as is any other receptacle that will stop stuff spreading out to fill any small space. Cups should be kept close to the kettle, if possible, and you can store your glasses in the same place. Ideally, this will be close to the sink so it's easy to fill the kettle when you're making a cuppa. Try not to keep serving plates and bowls too high or too low - one way will strain your back and the other could risk a head injury.
Top Tips:
Keep bin bags in the bottom of the bin. That way, when you remove a full bag, you can just pull a new one off the roll and don't have to search for them.
Keep your toaster on a small tray so you don't get crumbs all over the work surface.
Use plastic clips or ties to seal opened packets of food so it doesn't go off too quickly.
Only have one tea towel out at a time. They harbour germs and look messy so just put it straight in the washing machine and get out a clean one every day or two.
Wipe down surfaces with an antibacterial cloth at night. This will keep them clean and hygienic in between a full clean. They're available in disposable packs now and it will take you no more than 20 seconds.
Cooking should be enjoyable and an organised kitchen will help enormously. It doesn't take much effort to arrange everything so that it's easy to find and accessible. A shared house can quickly fall into disarray so you need to keep the momentum going!
You might also like...
how do l cook jollof rice and frid rice..also vegetable soup..
MIZzTyDah
- 14-Jan-18 @ 2:45 PM