Working Out a Food Budget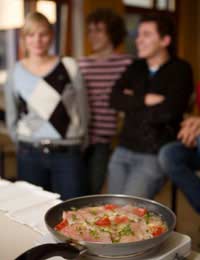 If you've never been in charge of your own food shopping before it can be a little daunting to think about your budget and just how much you can afford to buy. It's also a case of working out when's the best time to do most of your shopping and how you can economise and save money by deciding where and how you shop.
Write a List
A list is a great way to really visualise your budget and it will give you a tangible reminder of what you've got to spend on filling your stomach. You should make a note of all the food that you will need to buy on a regular basis so, essentials such as milk, bread, eggs, fruit and vegetables. Then you can write down all the extras that you might just eat once a week or so. If you work out a vague weekly budget for all your everyday foods, you'll then be able to tell if you can afford a few luxuries now and again.
Your food budget should really make up an important part of your overall living expenses. It's very important to eat a well-balanced diet and there's no point in setting aside a paltry amount for all your food and then having to live off beans on toast for the last two weeks of the month.
Be Realistic
Whilst you don't want to blow all your money on caviar and champagne, equally you should have a pretty realistic idea of how much things actually cost before you finalise your food budget. It may well take a couple of trial runs to get the figures accurate but once you get into the habit of shopping to a fairly strict budget, you'll soon find ways of sourcing cheaper foods, or finding alternatives. It's a good idea to do a big shop at the beginning of the month, or whenever you have the most funds available. Choose sensible items that will last so that you can stock up the cupboards and then allocate the rest of money evenly each week for fresh ingredients and top-up goods. Inevitably, there will be occasions when you run out of cash before the end of the month. However, with a decently stocked freezer and cupboards, at least you know there'll always be the makings of a nice meal.
House Budget
If you decide to share the food shopping and responsibilities with your housemates, you should all agree to donate the same amount of money on the same day each month, in order to make it fair and to keep track of everything. Either assign one person to take charge of the cash, or you could take it in turns each month. You will find that it can work out cheaper to buy in bulk and also to buy things like a whole chicken, rather than chicken portions, so there are certainly some good points about having a house food kitty. However, you do need to be careful that the food is being eaten equally and that, for example, vegetarians or non-drinkers aren't getting a raw deal by contributing for loads of items that they can't have.
You might also like...