Starting a Food Kitty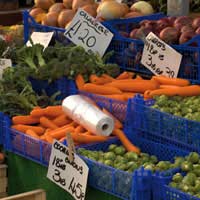 When you start university it's the beginning of a whole new stage in your life. Student living isn't just about studying for your chosen course; it's about meeting and living with new people looking after yourself and, for many people, discovering a new town or city. Whether you're interested in food and cooking or have never cooked more than a piece of toast, food will be an important part of your university years. Not only do you have to prepare your own meals but you also have to shop for yourself as well, and this means budgeting.
Shared Kitchen
If you're living in halls or a house with a shared kitchen, the subject of shopping and food will arise almost as soon as you unpack your bags. One of the first things you'll all need to agree on is whether you're going to be shopping for your own food, or if it's more economical to combine your resources and buy food that everyone in the house will share. While house shopping is a great way to bond with your housemates and save some money at the same time, you do need to be careful that it's all done fairly and that everyone is happy.
Here Kitty, Kitty…
There are a few basic rules that you might want to stick to before you set up a food kitty, which should help to avoid petty arguments:
Appoint someone to look after the money. This could be the same person, or you could take it in turns each month.
Agree on a certain date in the month when money will be collected. You really need to stick to this - as soon as it slips, the arguments will begin.
Try to all sit down together and agree on a shopping list. Take it in turns to go and do the actual shopping - it will take hours if eight people all have to traipse along to the supermarket every time you need a pint of milk.
Appoint someone to be in charge of everyday or top-up groceries. There's no point in everyone buying whatever they fancy and dipping into the kitty for reimbursements.
If you have any money left over at the end of the month splash out on a house takeaway evening or buy food for a special meal.
If anyone wants something extra or food that will not be shared by the house, it should be agreed that they buy this themselves. It should also be made clear that it's not for general consumption!

Good Practise

Setting up a food kitty is a really good way of becoming familiar with food budgeting and also of getting to grips with how much things cost. You will quickly find ways of getting more for your money, or finding cheaper alternatives to expensive items, in order to stretch the money. It will probably take a couple of months to get things running really smoothly and to get a more accurate idea of how much you each need to contribute but, if you can make it work, it's a sensible way to do your food shop. Overall, you should save money, as you'll be able to take advantage of bulk buying deals and special offers. And don't forget - supermarkets aren't the only places to buy food. Take advantage of local shops and markets, as well.

You might also like...