Stretching Your Budget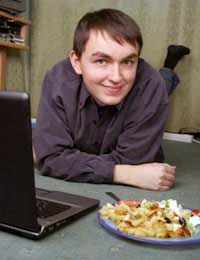 One of the things you'll become very good at whilst at college is learning how to make a little money go a long way. Unless you're very lucky you'll inevitably be surviving on a pretty tight budget and it's important to get into good habits right from the beginning. Whether your parents are helping you out or you're working part-time to support yourself through college or university chances are you'll get a cheque once a month and then it's down to you to allocate money and make it last until the next cheque arrives.
Good Habits
If you're not used to budgeting then it can take a little while to really work out how to distribute your money and make it last. However, it's really good practise for when you're working and managing every aspect of your finances and, if you get it right now, you should be set up for life in budgeting terms.
For many people, food will be way down the list of priorities for the allocation of precious funds. However, everyone needs to eat, and failing to set aside enough money for food can be a false economy. You'll end up eating out more and getting takeaways, stacking up that overdraft or credit card. This is completely avoidable if you just work out your shopping carefully at the beginning of the month and keep back sufficient money to buy fresh provisions later on. Here are a few tips to consider when working out your food budget:
Do a big supermarket shop when your money arrives each month. Buy all your non-perishable foods and other provisions and make sure you buy sufficient to last the whole month. Buy plenty of cans and frozen veg as well, so that you'll have decent meals even if money is tight towards the end of the month.
Allocate an additional, smaller, amount of money for a shop each week. This should be for perishable goods such as bread, milk, fresh fruit and vegetables.
Plan your meals. This might sounds a bit sad but it will save you money, as you won't end up throwing food away. You can also then plan for lots of variety in your diet.
Find a local market or stalls and wait until the afternoon to go shopping - this is when you'll get the bargains!
When you're cooking, make double portions and freeze one so that you build up a good stock of meals in the freezer for later on in the month.
Shop as a household - this way you can take full advantage of all those 'buy one, get one free' offers. However, don't be tempted to just buy food because it's on special offer: if it's not something you eat often, you'll end up binning it and wasting money.
Budgeting Becomes a Habit
Once you get into the habit of budgeting you'll find it becomes second nature. It takes a bit of practise and a lot of self-discipline not to dip into funds when there's a big night planned. However, you'll have the last laugh when you're still enjoying gourmet meals at the end of the month!
You might also like...