Save Time and Money Cooking as a Student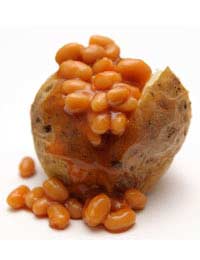 When it comes to cooking, as well as in other areas of student life, suggestions on how to speed up the work and to keep costs down will always be welcome.
If you are sharing accommodation, and pooling resources, it is in everyone's interests to make the most of time and budget.
Saving from the Start
Even in rented accommodation there will probably be only basic equipment, leaving quite a few utensils lacking. You can fill in the gaps by doing a bit of swapping among friends; visiting cheap household goods shops; or borrowing from your parents.
Tips for the Kitchen
Now that you are up and running you need to learn a few tricks to save you time and money.
Baked potatoes are something of a student staple, and they take roughly an hour at Gas Mark 5 or 190 degrees C. You can speed up the process by 10-15 minutes by sticking a metal skewer through the middle of each potato.
Save even more time by not having to hang around. The potatoes will cook happily in a very slow oven for hours till you get back from studies or socialising.
Skip the Scales
Weighing things out can be time-consuming if you are in a hurry, so learn quick measuring tricks.
The amount of rice and pasta you measure will double in size when cooking. Think of the portion you normally eat, say around 4 heaped tablespoons when cooked, and measure out 2 tablespoons raw per person. With practice you will get your spoon measurements just right.
Use an ordinary drinking mug as a measure for flour and other dry ingredients. If you keep the ratio accurate and use the same mug for everything it will work out alright.
Adding Bulk
Save money on a meal without compromising on nutrition by adding vegetables to bulk out a meat dish.
Potatoes, mushrooms, peppers or whatever you have spare, can be chopped up and added to curries, soups, omelettes and more.
Make soup more filling by cutting stale bread into cubes and adding a crushed clove of garlic to some oil before frying the croutons.
The cheapest mince is not a money saver because it tends to have a lot of fat and gristle. Save by buying the best mince you can afford but make it go further with added vegetables.
If you cook double portions and are reheating any food next day, cook until it is piping hot.
Time-saving Rescues
Taste a curry near the end of cooking time to see if it is hot enough. If it isn't, save time by adding chilli powder instead of more curry powder. Curry powder needs time to cook properly to release its flavour.
If, on the other hand, your curry is too hot, just add some yoghurt or cream to cool it down quickly.
If you are grilling anything, get into the habit of lining the grillpan with tinfoil. You will save time on washing up. The cheapest foil is fine for this job.
Stir-Fries - the Student's Friend
Saving time and money if they are cooked properly, stir fries are a good and healthy choice for the student kitchen. You can use cheap ingredients, they take minutes to cook and they can be different every time. There are a few basic tips:
most importantly, prepare all the ingredients before you start cooking.
cut all the ingredients to the same size - strips of peppers, courgettes, carrots, onions etc. about 5cm long and 5mm thick.
what little meat you need - roughly two chicken breasts or 225 grams of meat will do four people - should be cut into thin strips.
get the wok or frying pan really hot and add a tablespoon of oil. If using meat, stir fry it in the hot oil for two to three minutes, then add the vegetables for a further two.
mix the sauce, pour over and stir fry for another minute before serving. Basic sauce ingredients are 4tbsp soy sauce, 1 tbsp vinegar, and 1 tsp runny honey or sugar. Add chilli powder, ginger, sherry or sesame to give it a kick.
The Cheaper Version
If you have a good recipe for rainbow trout but the budget is tight, buy mackerel for a cheaper dish. It is flavoursome and, like the trout, has the beneficial nutrients of omega-3.
Keep a bottle of cheap sherry in the kitchen. Use it to add flavour to stir-fries and puddings, for example. Just don't be tempted to drink it.
Frozen peas, cheaper bought in bulk, and generally better than tinned, keep for 12 months in the freezer. They cook in a couple of minutes in the microwave.
Save money when throwing a party by bulk-buying cheaper crisps, but make them more exciting by serving them with a dip. Natural yoghurt, mayonnaise and curry powder mixed and chilled makes a tasty dip.
You might also like...
this site really helped me when choosing recipes for my gcse controlled assesment on a student diet, it was very helpful and accurate :)
Georgieeee <3
- 16-Apr-11 @ 10:24 AM