Its a Wrap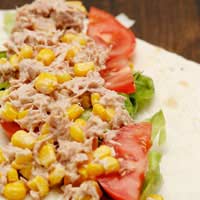 Fed up with the same boring old cheese sandwich? Then it's about time you started putting something else between your slices of bread. Sandwiches have earned themselves a bit of a reputation as an essential but not necessarily exciting, solution to lunchtime food. However, with the huge variety of bread around these days and the endless variations for interesting sandwich fillings, there's really no excuse for a boring sarnie.
Bring on the Bread
The first thing to do when looking for a more interesting sandwich is to start thinking about bread. If all you have at home is a loaf of doughy white bread then it's time to go shopping. Most bread products freeze very well so you don't have to worry about it going stale - just take what you need from the freezer every couple of days. Tortilla wraps are great for lunches and you can fill them with anything from tuna to roasted vegetables. Bagels are a favourite and there are loads of different flavours to experiment with. You can also buy ciabatta and focaccia rolls, pitta bread, sourdough, naan… in fact, the list is endless. Here are some ideas that should get your taste buds going:
Hummus and Grated Carrot Baguette
This is a nutritious and tasty answer to lunchtime boredom. A freshly baked baguette will really add to the experience but don't worry if it hasn't come straight from the oven. Split the baguette then spread liberally with hummus. Sprinkle over a handful of freshly grated carrot.
Sun-dried Tomato and Mozzarella Ciabatta
Split a ciabatta roll and place a few slices of mozzarella on one half. Top with some chopped sun-dried tomatoes then replace the other half of ciabatta and cook in a sandwich maker for a few minutes, until the cheese melts.
Bean and Hummus Wrap
Spread some hummus over a tortilla wrap then evenly place some sweetcorn, kidney beans and chopped red pepper on top. Tuck in the end then roll up the wrap and slice in two.
Tuna Melt Toastie
Butter two slices of wholemeal or granary bread. Mix a can of tuna with some mayonnaise and grate some cheddar cheese. Spread the tuna mix over one piece of bread and top with the cheese. Replace with the other piece of bread then cook in a sandwich maker for a few minutes until the cheese melts. If you don't have a sandwich maker, you can still enjoy this - just toast the bread and fill.
Salmon and Cream Cheese Bagel
This may sound a bit posh for a student lunch but cream cheese is fairly cheap and you can buy small packs of smoked salmon for less than you might think. Split the bagel (you can then toast it if you like). Spread a thick layer of cream cheese over one half then lay some smoked salmon on top.
Chicken and Pesto Pitta
This is a good way to use up any leftover roast chicken. Slice a pitta bread in half then warm it through in the toaster. Open out each half to create pockets then spread some green pesto in each half. Add some chopped chicken and finely sliced iceberg lettuce.
Hopefully that's given you some inspiration for lunchtime snacks. You just need a few key ingredients to create some really interesting sandwiches and it will work out a lot cheaper than eating in the college canteen every day.
You might also like...