Using The Oven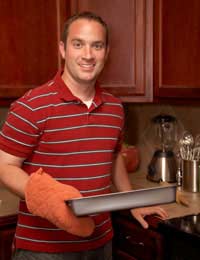 To be fair, there are probably a million more exciting things to be thinking about during your time at university than the pros and cons of your oven. However, no kitchen would be worth stepping into without a functioning oven and mealtimes wouldn't be quite such an event if you had to tuck into cold dinners every night. As with all kitchen appliances there are a number of different types of ovens, or oven and hob combinations, and it's a good idea to get fairly well acquainted with yours before you attempt any gastronomic extravaganzas for your friends.
Electric Oven
This is the one you'll find in most kitchens: an upright electric oven with four plates on the hob, a grill section and a main oven. They're fairly straightforward to use but all ovens are different and each will have its own quirks. Some will cook things more quickly, some will be fan assisted (which means food cooks quickly as the air is constantly circulated around the oven) and some will just seem to take forever to heat up.
Gas Oven
The same set-up as an electric oven but powered by gas. Some systems will have a gas hob and an electric oven. Many people prefer gas hobs as they heat instantly and it's easier to control the temperature. However, it's all down to personal preference and what you get used to. If you have a gas oven that requires lighting manually, always use a proper gas lighter and not matches - for obvious reasons!
Separate Hob and Oven
This is where the oven is integrated into the kitchen units and sits off the floor. You then have a separate hob either alongside the oven or elsewhere in the kitchen. The benefit is that you don't have to bend down to lift food in and out or to check it during cooking.
Range Oven
It's unlikely that you'll have one of these in a student house. They're bigger than a conventional oven and come with five or six burners on the hob and often two oven sections. Dream on…
Top Tips
If you're unfamiliar with your oven, chances are you won't be able to cook confidently. Even the most experienced chef can come a cropper when they're cooking with a different oven to the one they normally use. Here are a few tips to get you started:
Begin with something really simple like a jacket potato so you can test out the temperature and timings of your oven.
Clean the oven before you use it for the first time and then regularly after that. Leftover food can soon build up and unsavoury smells will be wafting around the house every time the oven's turned on.
Try not to open the oven while food is cooking: this lowers the temperature and it will take longer for dinner to be ready.
Don't leave the kitchen while food is cooking unless you have an oven timer set. It's very easy to get caught up in something else until the smoke alarm reminds you that your food is burnt.
With a bit of oven know-how you can really cook with confidence. It doesn't take long to learn about the peculiarities of your oven and how to use it but it's time well spent.
You might also like...
Thx because of thisInow know how to make bread.& I realy love making bread.
mimay
- 10-Jan-12 @ 11:36 AM