The Night Before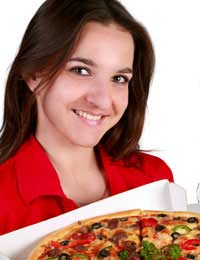 There's no point pretending that the student lifestyle doesn't include the odd big night out. Parties special offers at the student union and forays into town for student nights are all part and parcel of going away to college. The important thing is to try and pace yourself, don't exceed your limit and drink sensibly.
Line your Stomach
It's always a good idea to eat a decent meal before going out for the night. Although you might prefer to spend the time getting ready and choosing which outfit to wear, there's a lot to be said for lining your stomach before having a few drinks. Whilst you might still have a detour to the local kebab or chip shop on your way home later, this really won't help if you've been drinking, as the alcohol will already be in your system. By all means, tuck into a bag of chips once the pubs have shut but the important thing is to eat before you go out as well. You'll appreciate it the next morning!
Here are few no-nonsense ideas for meals to eat before you go out:
Tuna Pasta
It's quick, it's easy to make and it's full of carbs and protein – just the thing for helping ease the effects of alcohol. Carbs will keep you full for longer and should help to soak up the alcohol and stop you getting tipsy after just one drink.
Baked Potato
Another carb-laden feast that's perfect for the onset of a big night on the tiles. If you cook the potato in the microwave, it will only take minutes and you can have a shower or get dressed while it cooks. A can of baked beans and some grated cheese will complete the meal and you won't have spent ages in the kitchen.
Pizza
It doesn't have to homemade on this occasion. If you don't have anything else that's really quick to prepare, chuck a pizza in the oven while you get ready. You can even take a few slices to eat on the bus or train, if time is really ticking on.
Scrambled Eggs on Toast
It's not rocket science: whisk a couple of eggs with a dash of milk in a microwavable jug and cook to your liking, while you toast some bread. Pour the eggs over the toast and put some baked beans in the jug. Give them a quick blast in the microwave, add to the plate and you've got a full-on stomach lining meal in minutes.
If you really have left it until the last minute, you should still try and eat something before you go out. Even if it's just a couple of slices of toast or bread, or a hastily put together cheese sandwich, it will help. Whatever you do, just don't go out drinking on an empty stomach. Another tip is to try and drink the odd glass of water or a soft drink every so often throughout the evening. This can help you to pace yourself and will slow down your alcohol intake.
You might also like...