Dinner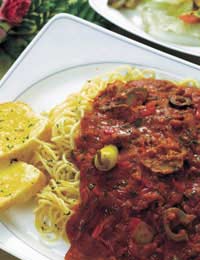 Dinner might be a quick bite before going out or it might be a leisurely meal in front of the telly or with friends round.
Whatever you fancy and whatever the occasion, dinner shouldn't be skipped. Whether you see food as fuel or enjoyment, it's important to eat well throughout the day. Dinner provides the perfect opportunity for really planning and enjoying a meal and practising your cookery skills.
Main Meal
For most people, dinner is the main meal of the day. This is usually as it's the time of day where you have a little more time to think about what you're going to eat and more time to enjoy it! If you've had a busy day and have no plans for the evening, there's nothing quite like shopping for a nice meal and then going home to prepare it, sit down, relax and savour the food.
A little more time doesn't mean you have to spend the entire evening in the kitchen. Unless you're a very keen cook you probably want to have a break and put your feet up for a bit but it's perfectly feasible to prepare a really nice meal in about half an hour, without resorting to pre-prepared food and microwaves.
Pasta
It's quick, it's easy, it's cheap - it's perfect for any occasion. You can keep it simple for a quiet night in on your own, or jazz it up a bit if you're cooking for your housemates. Here's a basic homemade pasta sauce:
Fry 1 small chopped onion in about 1 tbsp of olive oil, in a pan, until softened.
Add 1 crushed garlic clove and 4 chopped sun-dried tomatoes.
Add 1 can of chopped tomatoes and simmer for about 8-10 minutes, until the sauce reduces down considerably.
Meanwhile, cook you choice of pasta, according to packet instructions.
Add a handful of chopped, pitted black olives to pan and about 5 chopped basil leaves to the sauce.
Drain the pasta, add to the sauce, give it a good stir and serve, topped with extra basil and some freshly grated Parmesan. Delicious!
Fish
Fish is a lovely, light healthy option that's quick to cook. Try to eat it on the day of purchase as the flavour and freshness deteriorates quickly. If you buy a pack of two or four fish fillets, separate them and wrap well in cling film then freeze. That way you won't have to defrost the lot if you just need one fillet. Here's a quick fish dish:
Grill, steam or bake a fillet of salmon or haddock.
Meanwhile, mix 1 tablespoon of crème fraîche with 1 tsp of green pesto.
Steam or boil some new potatoes and green beans or broccoli and serve with the fish, with the sauce on top.
Jacket Potato
Everyone has a favourite method of cooking a jacket potato but it basically comes down to whether you have the patience to wait for it to cook in the oven, or your rumbling tummy is telling you to zap it in the microwave. Obviously, the finished result is far superior if it's an oven-baked spud but however you cook it, it's the ultimate comfort food. Here are some fillings to try:
You can't beat the classic beans and cheese. Use a strong Cheddar and plenty of it.
Tuna and sweetcorn is another favourite but you can liven it up with some red peppers, red onion and kidney beans.
Cottage cheese mixed with chopped chives is a nice light option that's literally ready in a minute.
There are so many options for a hearty dinner and it really depends on what you fancy cooking and whether you want to go shopping for any special ingredients. Stir-fries are quick to prepare and roast vegetables can be accompanied with rice or couscous for a healthy meal - in fact, the options are endless!
You might also like...