Brunch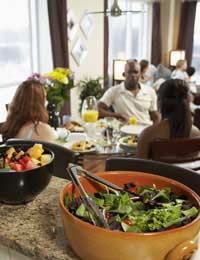 As a student the notion of brunch should be very appealing. It's basically an excuse to lie in bed for longer and then get up and eat an extra large breakfast. As the name suggests, brunch is actually a hybrid of breakfast and lunch and is eaten somewhere between the traditional time for each meal. However, it's a pretty flexible affair and much like the all-day breakfast offered by many cafes and restaurants, brunch can really be eaten any time before dinner.
Filling Up
Brunch is perfect for lazy weekends when you might all be gathered together in the house. It allows you time to pop out to the shops to get supplies, buy the newspapers, make a huge pot of tea and prepare food at a really leisurely pace. It's also the perfect excuse for having pretty much any combination of your favourite cooked breakfast or lunch food items. Everyone can get involved in preparing brunch and it's one of those meals where you can all have something completely different but still somehow manage to eat together. Here are a few ideas:
Bacon and Egg Bagel
Toast the bagel, fry the eggs and bacon, and use streaky bacon so it's nice and crispy.
Poached Eggs
Bring a pan of water to a simmer, stir lightly then gently break an egg into it. Let it simmer for about 4 minutes. Remove with a slotted spoon and have your toast, bagel or muffin buttered and ready.
Scrambled Egg and Tomato Baguette
Chop the tomato and stir into the eggs towards the end of cooking. Add some freshly chopped parsley for an extra zing.
Muffins with Baked Beans and Mushrooms
Try porcini or chestnut mushrooms for a change. As for the beans, they have to be Heinz.
Smoked Salmon and Scrambled Egg on Toast
You only need a small amount of salmon for this luxury brunch idea. Chop it up into small pieces and stir into the eggs at the last minute.
Muesli with Yogurt, Honey and Fruit
Just because it's healthy doesn't mean you're on short rations. This needs to be a big bowl layered with muesli then doused with a variety of chopped fruit (melon, banana, strawberries and grapes are good choices). Pour over some yogurt and drizzle a serious amount of runny honey on top of that.
Pancakes with Chopped Banana and Honey
Make your own pancakes if you're feeling adventurous or buy them and warm through in the oven. Sprinkle some chopped nuts over the bananas and honey for a crunchy finish.
Eggy Bread
Beat a couple of eggs with a dash of milk. Soak one slice of bread at a time in the mixture then quickly transfer to a hot pan over a medium heat, to which you've added a little oil. Fry on both sides until turning golden brown - unbeatable!
Although eggs feature quite heavily in brunch ideas, there are certainly no hard and fast rules. Toasted sandwiches, a full English breakfast, or grilled kippers are all just as acceptable. It's more about the leisurely pace and relaxed atmosphere than about the food or the time it's eaten.
You might also like...