The Morning After - Fight the Hangover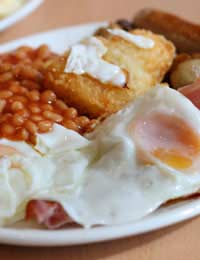 We've all been there: the dry mouth; the throbbing head that just won't move off the pillow; waking up fully dressed. Though it's nothing to be proud of the hangover is one of those rites of passage that should teach you a little bit more about your alcohol tolerance and when to call it a night and go home. While a shower and a cup of tea might cure most of your symptoms, the best way to deal with a hangover is to feed it. Even if you don't feel like eating, you should try and get something into your stomach. Alcohol can drain your blood sugar levels so it's important to get these back up to a decent level and also to replenish the fluids in your body.
Keep it Simple
To ease yourself into the day, begin by drinking some water to combat dehydration. Ideally, you should take a large glass of water to your room when you go to bed but as you probably weren't in a particularly fit state to think of such sensible things when you got home, you might have to venture to the kitchen. While you're there, make a cup of tea as well and take these back to bed to drink. This will give your body the chance to start functioning normally again and give you the opportunity to really assess the state of your hangover. Hopefully, this intake of fluids will begin the recovery process and you should begin to feel hungry now – if not, go back to sleep and try again in an hour or so!
The Big Feed
As you're unlikely to be up and about with the larks after a big night out, breakfast is more likely to morph into brunch, or even lunch, so you should eat accordingly. Here are some classic and more unusual ideas for combating that hangover:
The Fry Up
This is the quintessential hangover cure. Excessive alcohol consumption can drain your body of salt and sugar so this is always going to be a bit of a winner. Salty bacon, protein-packed eggs and sweet baked beans really are a good combination for fighting that morning after feeling. Try not to get carried away with the frying though, as this might have an adverse effect on your tummy. Instead, keep it healthy by grilling your food and serving it with wholemeal or granary bread. Vitamin C is another recommended hangover helper, so accompany your fried breakfast with a large glass of orange juice.
Smoothie
If you can't face a big plate of food, try a freshly made smoothie instead. They're quick to prepare and you can pack in plenty of goodness that should help you feel better. How about banana and strawberry with a spoon of honey and some ice-cold milk? Delicious!
Eggs
Eggs in any incarnation are a good option for a hangover meal. Try eggy bread or poached eggs on muffins for something a bit different.
Toast
This doesn't have quite the impact of a full plate of food but eating carbohydrates can help to fight those hangover symptoms. Opt for granary bread, as this will release the energy more slowly into your body. You can always start with a piece of toast and, if this is accepted, go back for something more substantial later on.
You might also like...
Thank you for putting this up here! It really helped me. All better now
Dave
- 25-Mar-11 @ 11:58 AM