How to be a Great Host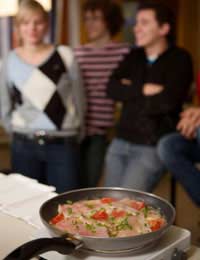 There's no better way to make friends when you start college or university than to invite people round for dinner. Forget what they say the way to everyone's heart is through their stomach and a good, homemade meal provides the opportunity to sit down and spend time getting to know your new friends.
Keep it Simple
People often get very nervous at the thought of hosting a dinner party and this isn't a good start. You should really enjoy yourself as much as your guests and if you're going to spend the whole day leading up to it frantically running around shops and the entire evening in the kitchen, maybe it's a bit too soon to be considering anything more adventurous than a takeaway with your mates.
The key is to keep things as simple as possible. Think of it more as a couple of good friends popping over for a bite to eat and a catch-up and you should feel some of the stress being taken away from the event. At the end of the day, an invitation to eat at someone's house is always welcome and people aren't going to expect a five-course traditional French gastronomic feast - shepherd's pie and some fresh strawberries and cream are likely to be received with just as much enthusiasm.
Alternative Evenings
If you don't want to cook a big meal, there are plenty of other ideas that would be great for a gathering. You could host a pizza evening, a themed night (footie or Eurovision) or wine tasting with nibbles. Another idea is to ask different people to prepare different dishes and then everyone congregates at your house to eat the whole meal.
Drinks
Unless you know exactly what all your guests like to drink, you should buy some red and white wine, beer and something non-alcoholic. It is courtesy for people to bring a bottle of something when they're invited to dinner, however, as you have no idea what that might be, you need to be stocked up with drinks at home. As a rough estimate, you should aim to have sufficient for half a bottle of wine per person - although you'll know if the people you've invited are likely to drink a lot more than that and you can buy extra!
Top Tips for a Successful Evening:
Don't go for anything too complicated - it's better to do a simple dish well than to ruin a complicated recipe.
Dinner parties aren't really the time to try something for the first time, unless you're a fairly competent cook.
Choose something you can prepare in advance as this will leave you plenty of time to get any disasters over with earlier on, and you'll also have more time to spend with your guests.
Have some nibbles to offer round before dinner. Then, it won't matter so much if things are running a bit late.
Keep everyone's glasses topped up. There's nothing worse than guests having to ask for their own drinks.
Check beforehand whether anyone has any particular dislikes or doesn't eat certain foods. It's very embarrassing to have to tell your host/ess that you can't eat the meal that they've spent hours preparing.
Make sure you have sufficient crockery, cutlery and seating for everyone you've invited. If not, borrow extra in plenty of time.
A few drinks and a nice meal is a very relaxing way to spend an evening and it makes a great alternative to a night in the pub. As long as you stick to what you know and don't try to cater for too many people, you shouldn't go too far wrong!
You might also like...