Footie Food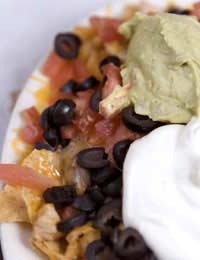 In terms of entertaining you don't need to get the valuable china and sterling silver cutlery out when you're having your mates round for a bite to eat. There are plenty of excuses for a good old-fashioned gathering and a football match is just one of them.
Safety in Numbers
It's always best to watch the footie with a crowd of your mates and whilst many people choose to gather in their local pub, others prefer the comfort of their own sofa. At least you're guaranteed a good seat and you won't have to queue up to go to the bar or the toilet! Footie food needs to be really quick and easy to prepare. Let's face it, the evening isn't really going to revolve around the culinary delights that you serve; it's all about the match. The food is fodder - something to soak up the beer and fill the stomach. Having said that, if you're going to the trouble of setting up the living room for the big match, then you should go a few steps further than just opening up a couple of bags of crisps. You don't have to spend a great deal of money or time in the kitchen to come up with some interesting snacks and nibbles that can be rustled up before kick-off, or during half time. Here are some quick ideas:
Nachos
A hot snack that's perfect for sharing and easy to make. All you need to do is preheat the oven to a medium setting, spread a bag of nachos into an ovenproof dish and sprinkle liberally with grated cheese. Place in the oven until the cheese melts then top with tomato salsa. You can also serve guacamole on the side.
Pizza
Make you own pizza dough in advance or buy some ready-made bases. Select a couple of toppings and preheat the oven. Try a tomato sauce layer, topped with slices of mozzarella cheese then finished off with chopped olives, sun-dried tomatoes or anchovies. Pizzas only take about 8-10 minutes to cook.
Bruschetta
This might sound difficult but it couldn't be easier. Simply slice a ciabatta into thin slices, lay them out on a baking sheet and grill for a minute or so. Turn them over and top with any of the following: chopped tomatoes; goats' cheese; Parmesan; anchovies; sun-blush tomatoes; Parma ham; or salami. Grill for another minute or so and serve.
Crudités
Not the obvious choice maybe but a healthy alternative to crisps! Chop up some peppers, celery, carrots and cauliflower and serve with a selection of dips.
Potato Wedges
Preheat the oven to medium. Slice some baking, or other large, potatoes into thick wedges. Place in a large pan of water, bring to the boil and cook for a couple of minutes. Drain well, drizzle with oil and transfer to an oven tray. Sprinkle with a little paprika (optional) and some sea salt. Cook for about 25-30 minutes, turning every so often, until golden and cooked through. Serve with mayonnaise with some crushed garlic stirred in.
These are just a few quick ideas for food to enjoy with the football. It can all be placed on a coffee table so you won't need to move from the sofa!
You might also like...