Fish Pie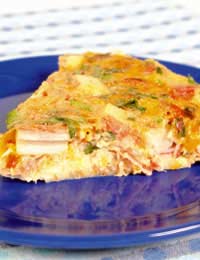 There's a bit of a knack to creating a delicious fish pie and it does take a while to prepare but the smiles of appreciation from your guests should more than make up for the effort involved.
There are literally hundreds of variations for a good fish pie and they can all be adapted to include different varieties of fish or the addition of extra ingredients. As with so many other dishes it comes down to personal taste and once you've mastered a basic recipe you can adjust it and make it your own signature dish!
Hearty Food
Fish pie should be hearty, homely and comforting. It's ideal for serving to a group of friends on a dull wintry evening, with a couple of bottles of wine and some lovely, fresh green veggies. It provides the ideal opportunity to pay the local fishmonger a visit and ask for advice on which fish to buy. The great thing about this dish is that it can easily be adapted to include different varieties of fish and you can use two or three, if you like. A little smoked fish will add another dimension to the flavour, as will stronger flavoured fish, such as salmon or trout. Try this recipe out to begin with and then start to experiment with other ingredients and fish.
Easy Fish Pie
Prep:
30 minutes
Cooking: about 50 minutes
Serves: 4
Ingredients:
3-4 large potatoes, peeled and cut into chunks
2 tbsp olive oil
1 onion, chopped
25g plain flour
300ml milk
450g white fish fillets, cut into chunks
125g peeled prawns, cooked
50g butter
50g grated Parmesan
Salt and freshly ground black pepper
Methodp
Preheat oven to 200C/400F/Gas 6.
Bring a pan of water to the boil and boil the potatoes until cooked through. Drain well, cover and set aside.
Heat the oil in a large pan and fry the onion over a gentle heat, until softened.
Add the flour and stir well then gradually add the milk, stirring constantly to make a sauce. Once all the milk has been added simmer gently for 3-4 minutes.
Add the fish to the pan and stir very carefully. After a few minutes add the prawns and again, stir carefully and cook for about 5 minutes. Season well with salt and pepper.
Transfer the fish and sauce to an ovenproof dish. Add the butter and a dash of milk to the potatoes and mash until smooth and creamy. Spoon over the fish and top with Parmesan.
Cook for about 30 minutes, until piping hot.
Added Extras
Here are some ideas for variations on this classic dish:
Use half regular and half smoked fish for a really intense flavour.
Hard-boil two eggs, cut into quarters and place these in the dish before adding the fish and sauce.
Line the dish with spinach: steam or boil a small bag of baby leaf spinach, remove all excess moisture and add to the dish first.
Try a combination of swede or sweet potato with the regular potato, for the topping of the pie.
Use other shellfish instead of, or as well as prawns. Mussels work particularly well.
This is great dish to prepare if friends are coming round for dinner, or for when your parents pop up for a visit. It can be prepared in advance so all the hard work is out of the way before your guests arrive.
You might also like...