Cheap Chilli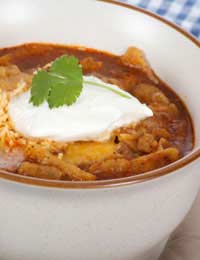 As a student you'll constantly be on the lookout for cheap filling meals. You'll probably also lean towards those dishes that are quick and relatively easy to make. If this sounds like you then chilli is the idea meal. It's hearty, has a bit of a kick and it's perfect for making for the whole household.
For just a few quid you can feed four people and a good chilli con carne takes under an hour to make. Much of that time is used up by the chilli bubbling away on its own, so there's really not much effort involved on your part but your housemates will be really impressed. You can do all the preparation, and even the cooking, in advance then all you need to do is reheat the chilli before serving. Chilli can also be frozen, so on the off-chance that it doesn't all get eaten on the night, you can save it for another time. Here's a really easy recipe for a great chilli. If you taste it at the end of cooking, you can see if you need any extra chilli powder - it really depends on your taste buds so feel free to turn up the heat if you can handle it!
Chilli Con Carne
Preparation:
50 minutes
Serves: 4 people
Ingredients
2 tbsp olive oil
1 large onion, finely chopped
2 cloves garlic, finely chopped
500g lamb mince
1 red chilli, seeds removed and finely chopped
1/2 tsp mild chilli powder (or according to taste)
1 red pepper, chopped
100g button mushrooms, roughly chopped
1 tbsp tomato purée
1 can chopped tomatoes
1 tsp English mustard (optional)
1 tbsp Worcestershire sauce
Salt and freshly ground black pepper
Boiled rice, to serve
Soured cream, to serve
Method
Heat the oil in a large pan, add the onion and cook for about 5 minutes, until softened.
Add the garlic and cook for 1 minute. Add the mince, chilli and chilli powder and cook, stirring, for about 10 minutes, until the mince is brown all over.
Add the pepper and mushrooms, season well with salt and pepper and cook for a few minutes more.
Add the tomato purée, chopped tomatoes, mustard (if using) and Worcestershire sauce.
Fill the tomato can with boiling water and add this to the pan. Stir well and bring to a simmer.
Cover the pan and simmer for about 30 minutes, until the sauce has reduced down. Check and stir every ten minutes to ensure it doesn't stick.
Serve with boiled white or brown rice and top each serving of chilli with a spoon of soured cream.
If you or any of your friends is vegetarian, you can simply substitute the lamb mince for soya mince. You can also add a glass of red wine to the sauce for a more robust flavour. Obviously this adds to the cost of the dish so you might want to save that for a special occasion, when you've got a nice bottle of red on the go - never use the dregs of a bottle that's been kicking around the kitchen for weeks as wine, especially red, deteriorates quickly once it has been opened.
You might also like...