Store-Cupboard Essentials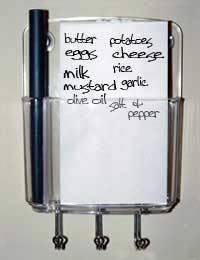 It's not easy to arrive in a new house and know exactly what you need to buy on your first trip to the supermarket. A kitchen of empty cupboards can be a little disconcerting, especially when you're used to everything being available at home. Many people start university without the benefit of a full shopping trip behind them and, like everything else involved with moving away from home and looking after yourself, it's a new skill to be mastered.
Making a Meal of it
It's amazing how many basic supplies you need to make even a simple meal. For example, a round of toast doesn't taste quite as good without butter or margarine. Here, we've put together a list of items that you're likely to need in your first few weeks in order to create some basic meals. This doesn't include the main, fresh ingredients but it should cover you for all those store-cupboard staples and hopefully stop arguments about whose turn it is to go the corner shop for the missing ingredient for dinner.
Condiments, Oils and Sauces
Vegetable Oil
This is essential for frying and roasting.
Olive Oil
Extra virgin olive oil is best for quality and flavour but if the budget won't stretch that far, regular olive oil if fine. As well as being beneficial to your health, olive oil is a great staple for salad dressings and marinades.
Mustard
Serve with a roast dinner or spread on a sandwich - this versatile condiment will always come in handy.
Tomato Ketchup
There's no point denying this popular sauce its rightful place in your kitchen. Used on everything from chips to steak, it's a bit of a student staple. It can also liven up Bolognese sauces or cottage pie, if you're out of tomato purée.
Soy Sauce
This is essential for stir-fries and for adding a salty flavour to dressings and marinades. You'll also be looking for this when you order a Chinese takeaway.
Salt and PepperIf a kitchen has nothing else, it should at least contain salt and pepper! It's worth spending a little more on freshly ground black pepper, as the flavour is more intense.
Tomato Purée
Pizzas, pasta sauces, lasagne… the list of uses for this little tube is endless. Once opened, keep in the fridge.
For the Fridge
Butter or Margarine
There will undoubtedly be a debate about which to buy, but you'll need one of them. Butter is a more versatile choice as it can be added to sauces and put to more use in baking (should you fancy trying your hand at a cake!).
Cheese
A strong cheddar should serve most purposes - don't forget to opt for a vegetarian version if there are veggies in your house.
Eggs
There are bound to be a few cooked breakfasts on the go on a Saturday morning so make sure you have a constant stock of eggs in your fridge.
Milk
Student houses always seem to run out of milk so make sure you buy enough. A good trick is to keep a couple of pints in the freezer for emergencies. Not everyone drinks full-fat milk so check and buy a couple of varieties, if necessary.
For the Vegetable Rack
Onions
Onions are used in so many dishes that these should always be on your shopping list and in your kitchen. They add flavour and texture to all manner of recipes.
Garlic
Again, this is used in countless recipes and can liven up roast vegetables and pasta sauces, as well as being used to marinate chicken (olive oil, lemon juice and a chopped clove of garlic will transform a chicken breast).
Potatoes
Roast them, chip them, mash them or bake them - whatever you do, don't run out of them!
Dried Goods
Rice
This is a cheap, basic food that will fill you up. Try brown rice - it's better for you and has more flavour but it does take longer to cook.
Pasta
Penne and spaghetti are two types of pasta that should cover most eventualities. If you're a big fan then you might want to vary this with a few other shapes, and lasagne sheets will obviously come in handy, too.
Dried Spices
Curry powder, dried chillies, turmeric and a mixed spice should be sufficient for basic recipes.
Dried Mixed Herbs
Fresh herbs are always preferable to dried but these will be fine for sauces.
Chopped TomatoesYou'll use these for cottage pie, lasagne, pasta and they are also good as a snack, served on toast.
Off to the Shops
So, now you should be confident enough to head off to the supermarket and do your first big shop. Nothing beats a kitchen full of lovely food - all you need to do then is decide whose turn it is to cook!
You might also like...