Introducing The Kitchen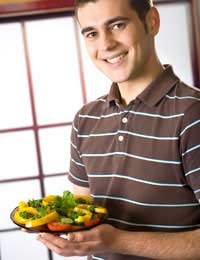 If your idea of cooking involves no more than boiling the kettle to make a cup of tea, you're going to be in for a bit of a shock when you leave home for university. Beer and takeaways will certainly get you through the first few days but there will come a point when there's no alternative but to locate the kitchen and put together a passable meal.
The Food of Love
Although the thought of preparing food from scratch might fill you with dread, it's well worth the effort. Who knows, you might even discover some culinary leanings along the way. It's also a well known fact that the way to a person's heart (it's not just the men) is through their stomach, so a few basic skills in the kitchen department could also help your progress with the opposite sex. Let's face it, the phrase, 'would you like to come over for dinner' can take on a entirely different meaning depending on whether you dial up for a pizza or sit your date down in front of a freshly prepared meal.
Lack of Resources
It's no secret that kitchens in halls of residence or shared accommodation are not generally going to feature on the pages of any interiors magazines. 'Functional' is a bit of a keyword when it comes to student cooking facilities – any more than that and you're doing very well indeed. Dated appliances, limited storage, plugs that don't fit the plughole… the list is endless. However, if you can learn to create edible and nutritious meals with limited resources just think how accomplished you'll be when you eventually gravitate to a kitchen with some basic mod cons and a freezer that doesn't need to be scraped free of ice every time you want to get the peas out.
Get Organised
If you're still some way off from preparing a three-course gastronomic feast for eight guests, fear not. With just a little know-how, you'll be well able to fend for yourself and you won't have to rely on greasy takeaways every night of the week. The secret is to literally begin at the beginning and don't try to jump into this cooking malarkey headfirst. Here are a few things to sort out before you even start:
Clean the kitchen.Yes unfortunately, before you can even make yourself a cup of tea, you should give the kitchen a thorough clean. Apart from attracting unwanted furry friends, a dirty kitchen can be a health hazard.
Check the appliances.It's very important to check that the appliances are all working. This may sound obvious and any scrupulous landlord will have checked before you moved in, however, you should ensure that everything is in working order before you open that can of beans and empty it into a saucepan.
Pooling resources.Inevitably your kitchen will be missing some essential home comforts and you might not even have the luxury of a kettle supplied in your digs. It's therefore a good idea to get together with your housemates (ideally before you move in) and work out who's going to bring various appliances. There's no point in three of you turning up on moving-in day with toasters and waffle makers but not one saucepan between you.
No More Excuses
When you're happy that your kitchen is in working order and you have the minimum requirements to prepare a simple meal, it's time to start cooking. Ease yourself in gently with something like beans on toast. It's always a good idea to get to know your oven before attempting anything too creative, as they do vary considerably. You'll find loads of ideas for easy meals throughout the site and it won't take long before you build up to more adventurous meals.
You might also like...