Kitchen Equipment - All The Basics You Need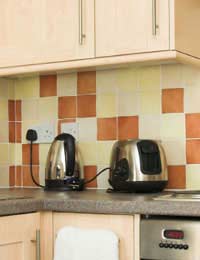 Unless you plan to live off toast and its various incarnations, you will need to acquaint yourself with some basic cooking utensils. Most everyday items required to make the majority of meals are reasonably self-explanatory. For example, you should be able to master the art of the colander after just one evening at the helm of a pasta dinner. If you're a bit of a culinary natural there's another article featuring some more specialised utensils but, for starters, let's take a look at the basic equipment that should grace the cupboards of any self-respecting kitchen.
Kettle
It seems almost criminal to mention the kettle but there's bound to be someone who forgets this most important item. Tea is the elixir of life for most student households (well, during the day, anyway!) and a decent kettle is absolutely essential.
Toaster
Where there's tea, there's inevitably a plate piled high with toast. If you're living with a lot of people you might all consider chipping in for a 4-slice toaster - this will save a big queue in the mornings.
Chopping Boards
You'll need at least two chopping boards - one for bread and vegetables and the other for raw meat - and it's a good idea to get different colours, or mark them up somehow to avoid confusion.
Knives
You won't get much cooking done without knives. A bread knife will be useful and then you'll need a couple of smaller, sharp knives for slicing vegetables and cutting meat.
Saucepans and Frying Pans
It's good to have a selection and again, if there are a number of people in your house, you should have enough for a couple of people to prepare meals at the same time. One large frying pan should be sufficient.
Bowls
A number of mixing bowls of varying sizes will always prove useful for beating eggs and mixing sauces. It's a bonus if they're microwave-proof as this is a quick way to heat up baked beans or to make scrambled eggs.
Colander
It is possible to strain rice or pasta using the lid of the saucepan but it requires a steady hand and a firm grip - one wrong move and your dinner will disappear down the plughole. Save the drama by investing in a colander.
Cooking Utensils
You should be able to find a set of these quite cheaply. It will usually consist of a potato masher, slotted spoon, stirring spoon and a fish slice - all very useful. However, there are lots of other things that you'll need if you plan on cooking at home much. You can never have too many wooden spoons and spatulas, a can opener and bottle opener are essential, and a vegetable peeler and cheese grater should get plenty of use, as well.
Large Ovenproof Dish
No first term at university should go by without at least one person attempting to make a lasagne. For this you will need an ovenproof dish - the larger the dish the more friends you can invite round. A casserole dish is also a good addition to your kitchen as casseroles are pretty easy and economical to make.
Taking Care
If you're going to get the most out of your kitchen equipment you need to look after it. This means doing the washing up in the same week as the meal was eaten; not leaving wooden utensils languishing overnight in a sink full of water; remembering to put the lid on the kettle so it doesn't boil dry and carefully putting pots, pans and dishes away after use. As the old saying goes: 'look after your utensils and your utensils will look after you'. Well, actually it doesn't but it should!
You might also like...