Baking Cakes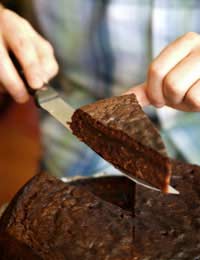 You probably think you don't have time to stay at home and bake cakes but in actual fact you can bake a cake or some biscuits in less time than it takes to sit and watch an episode of your favourite soap opera. Baking is a great way to learn some new cooking techniques and it can also be quite therapeutic. So, if you've had a particularly hectic or stressful week, or you need a break from studying, it might be the perfect tonic. The best bit is you don't have to wait long to enjoy the fruits of your labour and you could be tucking into a slice of delicious cake, still warm from the oven, in no time at all.
Top Tips for Baking:
Always preheat the oven to the correct temperature before cooking
Allow eggs to come to room temperature before using them
Gather all your utensils and ingredients together before you begin cooking
Be exact with your measurements as it can make all the difference in baking; if necessary, invest in some kitchen scales
Allow cakes to cool well before you fill or ice them
Store cakes and biscuits in airtight containers.
Basic Sponge Cake
This is a basic recipe for a sponge cake. This can be adapted to make all kinds of other cakes, just by adding a few extra ingredients. For example, if you're a chocolate fiend, add some cocoa powder; for a coffee cake, add some ground coffee, etc.
Preparation and cooking time: about 1hour
Equipment:
2 x cake tins (20.5cm)
Baking paper
Whisk
Large mixing bowl
Sieve
Wire rack
Ingredients:
Butter, for greasing tins
3 eggs, separated
225g caster sugar
70ml warm water
150g plain flour, plus extra for dusting
1 tsp baking powder
Method:
Preheat the oven to 190C/375F/Gas Mark 5.
Spread a little butter around the cake tins and line them with baking paper.
In a large bowl, whisk together the egg yolks and caster sugar until combined. Carefully add the water and keep whisking until you have a light fluffy mixture and all the ingredients are well combined.
Sieve the flour and baking powder into the bowl.
Whisk the eggs whites in a separate bowl and add them to the other mixture, using a large spoon to scoop them in so that you don't lose the air.
Spoon the mixture evenly into the two cake tins and bake in the oven for about 20 minutes. When cooked, turn the cakes onto a wire rack to cool. Fill with jam, cream or fruit compote and dust the top with icing sugar.
Flapjack
Quick, easy and delicious - these make a great snack.
Ingredients
100g light brown sugar
2 tbsp golden syrup
175g butter
175g porridge oats
Method
Preheat the oven to 150C/300F/Gas Mark 2.
Put the sugar, golden syrup and butter in a small pan and heat gently until the butter melts and the ingredients have combined. Remove the pan from the heat and add the porridge oats, stirring well.
Place the mixture into an 18cm baking tin and spread it evenly around the tin. Cook in the oven for about 30 minutes.
Score the flapjack into squares or oblongs while it's still warm. When cold, remove from the tin and tuck in!
These are just two of the many basic recipes that will introduce you to baking. Hopefully you should be encouraged to try more complicated cakes, biscuits and flans.
You might also like...