Frying and Sauteing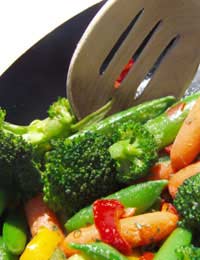 Students tend to use these cooking methods more than others so it's a good idea to learn how to do it properly. It is also worth noting how to make it a slightly more healthy proposition than pouring a load of cooking oil in a pan and massacring a couple of eggs or some chips. If done well, this can be a really quick and delicious way to cook, but you need to use the method in moderation and combine it with other cooking techniques.
Choosing your Equipment
To cut down on the amount of oil you need to use when frying or sautéing food, you should invest in a decent non-stick pan. It's worth spending a bit of money on this as a decent pan should last you for years and will make cooking a lot easier. To prolong the life of your pan, treat it with respect. The main thing to remember is not to use any metal implements when cooking with it as these will scratch at the non-stick surface and eventually wear it away. You can pick up a set of wooden utensils for next to nothing.
The other rule with non-stick is not to use a scouring pad when you're washing the pan. If you do the washing up on the same night as you eat the meal, this really shouldn't be a problem, as the food should come off easily – a good reason for not leaving the washing up for days at a time!
It's all in the Oil
Different types of oil are best used for different purposes. If you use olive oil, choose an extra virgin variety, as they can be cooked at higher temperatures. It is a little more expensive than regular olive oil but you should notice the difference in taste as well as ease of cooking, so it's worth spending a bit more. Peanut oil is also good for frying and this is great for stir-fries as it also adds a lovely nutty flavour to the finished dish.
Top Tips for Frying and Sautéing:
Always make sure the oil is well heated before you add the food to pan.
Cut food into even-sized pieces so it all cooks at the same time.
Don't be tempted to add too much oil to the pan. Use as little as possible or you risk the food becoming greasy if it soaks up the oil.
Try placing fried eggs, bacon, sausages etc on a piece of kitchen paper after removing them from the pan. This will soak up any excess oil.
When you've finished cooking, allow the pan to cool then wipe excess oil with a piece of kitchen paper. Put the pan in a bowl of hot, soapy water as soon as possible.

Frying and sautéing needn't be a particularly unhealthy cooking method. If you choose your pan and your oil carefully it can be a wonderfully flavoursome way to cook veggies, fish, chicken and meat. As with so much in life the key is 'all things in moderation'.

You might also like...