How to Cook Lamb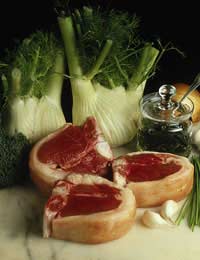 While you might consider a Sunday roast leg of lamb a bit of a luxury on a student budget it can work out to be quite economical if everyone chips in and helps out. If you're a meat eater, you should make an effort to look for your local butcher when you get to college. You might be surprised at some of the bargains you can get and there are cheaper cuts of meat that aren't inferior; it's just that people don't really know what to do with them.
Roast Lamb
You can roast a number of different cuts of lamb, including shoulder, rack and breast; however it's the leg of lamb that constitutes the classic Sunday roast dinner. If you're cooking for a large number of people, choose a whole leg but if there's just a few of you a half leg should be ample. As a rough guide, you'll need to cook a leg of lamb for about 25 minutes per lb, plus an extra 25 minutes, at a temperature of about 180-190C. Add a little bit extra if you like your meat well done. So, you just need to weigh the leg or, if you don't have scales, ask the butcher to do this for you. You should also let the meat rest for 5 minutes once you've taken it out of the oven, before you carve. Use this time to get the gravy ready and dish up the vegetables.
Lamb Chops
Quick, easy and delicious you can bake or grill lamb chops, according to taste, and serve with pretty much any accompaniment you fancy. It's important to keep an eye on the meat, as it's very easy to overcook lamb chops and they'll lose a lot of flavour. Brush with a little mustard or sprinkle with some breadcrumbs and Parmesan cheese halfway through cooking, for something a bit different.
Shepherd's Pie
This is a very economical way to enjoy lamb. Allow about 500g of lamb mince for a Shepherd's pie that will serve four people. It's really easy to make;
Simply fry a chopped onion and a couple of chopped garlic cloves in a little olive oil, in a large pan.
Add two finely chopped carrots then stir in the lamb mince and cook, stirring, until it's browned.
Add two tablespoons of tomato purée, a good dash of Worcestershire sauce and a little boiled water, if it's too dry.
Simmer very gently for about 20 minutes. Meanwhile, peel and chop about 3-4 medium potatoes and boil until soft.
Drain well, add a knob of butter and a dash of milk then mash well.
Place the lamb mixture in an ovenproof dish, top with the mashed potato and cook in a medium hot oven for about 30 minutes.
Serve with green vegetables.
Red meat is a good source of iron so, unless you're a vegetarian, lamb is a great choice for dinner. If you plan your meals and choose economical cuts, you should be able to budget for plenty of meat in your diet.
You might also like...