Mastering Spices in Your Cooking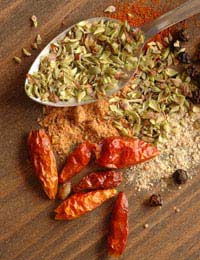 Using spices well can make a world of difference to a dish, adding depth of flavour and professional know-how to your cooking. Getting to know spices can pay dividends and here you can find out more about them and how to use them.
Allspice
What is it?
- Comes from a tropical American tree, with small white flowers and aromatic berries. Sold as whole berries or ready ground.
Its flavour? - It is said to taste like a mixture of cloves, cinnamon and nutmeg hence its name of allspice.
Uses - Marinades for dishes like soused herring or mackerel, and in chutneys, meat dishes and poached fish, all as whole berries. In vegetable dishes,fruit pies and cakes, as a ground spice.
Cardamom
What is it?
- An Eastern spice made from sun-dried pods, either small green pods or large black ones, containing seeds.
Its flavour? - Strongly aromatic and to be used sparingly. Add the pods whole and remove before serving a dish or extract the seeds and use whole or ground to a powder before use.
Uses - Good in curry and other savoury dishes like pilau rice, where one pod crushed and added (both seeds and pod) will give a delicious flavour.
Chilli
What is it?
-The very pungent red fruit of several varieties of a woody plant. Available as powder or flakes, as well as fresh.
Its flavour? - A fiery hot spice to be used with caution. A few drops only of a commercially prepared chilli sauce such as tabasco is required in a dish.
Uses - Spicy dishes such as curry, and, of course, in chilli-con-carne.
Cinnamon
What is it?
- The dried, rolled bark of a tropical evergreen tree. Available in sticks and in powdered form.
Its flavour? - It has a sweet, pungent and very recognisable flavour.
Uses - Sweet, spicy baking and desserts as ready-ground cinnamon. Meat casseroles,vegetable dishes, chutneys and pickles as cinnamon sticks.
Clove
What is it?
- The dried, unopened flower buds of an evergreen tree.
Its flavour? - Exotic,pungent and aromatic.
Uses - Mince pies, Christmas pudding, apple pies and other baking, in powdered form. Baked gammon, pushed whole into scored fat, or in aromatic, slow-cooked dishes.
Coriander
What is it?
- The dried, ripe seeds of the coriander herb. An important curry spice, ground or crushed.
Its flavour? - Is aromatic and almost scented, sometimes described as similar to roasted orange peel.
Uses - Savoury dishes from a variety of cuisines, including Spanish, Portuguese, Arab, Turkish and Greek cooking.
Cumin
What is it?
- The seeds of an old plant with finely divided leaves and small white or pinkish flowers. It has long, tiny easily-ground seeds.
Its flavour? - Pleasantly pungent and spicy.
Uses - curries as an essential spice, a pilau, added as whole seeds.
Ginger
What is it?
A plant of tropical Asia, with yellowish-green flowers and a versatile, knobbly rootstock. The root can be used fresh, dried, powdered, preserved in syrup and crystallised. One of the most widely-used spices of all.
Its flavour? - Spicy, fresh-tasting, and easily identifiable.
Uses - Cakes, biscuits, fruit pies and other baking in powdered form. Chutneys, pickles and curries, grated from a fresh root. Ice cream and puddings, chopped up as flavouring and decoration, in its sweet, preserved form.
Turmeric
What is it?
- A spice originating from a plant of the ginger family. Bright orange coloured spice to be used with care to avoid staining of hands and clothes. The root is commonly dried and sold in powdered form.
Its flavour? - Mildly spicy, aromatic and slightly bitter.
Uses - Curries, pickles, relishes and rice dishes, use sparingly. Like saffron, turmeric colours the food as it cooks.
You might also like...