How Hot is Your Spice Knowledge?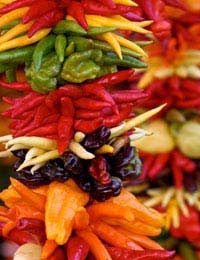 To be successful in cooking with spices, you need the confidence to know what to buy, and also to experiment, in order to find the right tastes to suit you and your recipes.
Finding a good balance of individual spices in dishes, and the combinations that really work, all comes from experience.
The answers and your score rate are at the foot of the page.
Your 20 Spice Questions
1.
Which spice, a member of the ginger family, has a bright, robust orange colour but is mild in flavour, and is used a lot in curries?
2.
Coming from a dried, star-shaped fruit of an evergreen tree, native to China, which spice has a pungent, aniseed flavour?
3.
A sweet, mild spice, made from red peppers, is also available oak-smoked for an intense flavour and smoky aroma. What is it?
4.
A large seed with a distinctive, nutty flavour, this is best bought whole and grated fresh for savoury and sweet dishes. What is it?
5.
What is the name of the well-known aromatic spice mix of cardamom, black peppercorns and cumin, a favourite component of Indian cooking?
6.
Which sweet, flavourful spice is the dried, rolled inner bark of a tropical evergreen tree?
7.
Which subtle-flavoured, colourful spice, from the dried stigma of a special crocus, is the most expensive of all spices?
8.
Which spice can be used as whole pods or seeds, is strongly aromatic and used in most curry powders?
9.
Which popular spice has seeds with a mild, orangey flavour and whose fresh leaves are also much-used?
10.
Which versatile spice is available to use fresh, dried, powdered, preserved in syrup and crystalised?
11.
Which spice has yellow-brown, very hard seeds with a distinctive aroma and a slightly harsh, hot flavour, used in curry powders but also in chutneys, pickles and sauces?
12.
Can you name the missing spice from this popular five-spice powder - star anise, Szechuan pepper, fennel seeds and cloves?
13.
This spice comes from three different plants which produce black, brown and white (or yellow) seeds, the darker seeds being more pungent. It is the basis of a signature English condiment. What is it?
14.
Used commonly in old-fashioned seed cake, these seeds with their nutty, toasted flavour are also used in various types of Austrian and German sausage, goulash and cabbage dishes. What are they?
15.
This spice, associated with curry, has long, tiny seeds which are easily ground with a pestle and mortar. With a strong, piquant flavour - what is it?
16.
Available as powder or flakes, as well as fresh, this is a fiery hot spice and should be used cautiously. What is it?
17.
Which spice mix is used with creamed coconut and/or yogurt as the basis of a sauce for chicken, meat or fish?
18.
Made from small, hot dried red chillies, this spice is sweet, pungent and very hot. What is it?
19.
Ready made mixed spice is useful for puddings and cakes, best bought in small quantities to keep it fresh. It is usually made of a combination of nutmeg, cinnamon, allspice and what other spice?
20.
Widely regarded as the most important spice in the kitchen, this is made from the dried, immature berries of the tree. Grind it fresh to get the best fragrance and flavour. What is it?
Answers
Turmeric
Star anise
Paprika
Nutmeg
Garam masala
Cinnamon
Saffron
Cardamom
Coriander
Ginger
Fenugreek
Either cinnamon or cassia
Mustard
Caraway seeds
Cumin
Chilli
Tikka masala
Cayenne
Cloves
Black pepper
Rate your score
16-20 - You certainly know your spices and are probably an accomplished cook who enjoys experimenting
11-15 - You're pretty savvy and definitely not new to cooking with spices
5-10 You're curious enough to know quite a lot about spices and finding out even more will encourage you to produce ever more flavourful food
0-4 - You're very new to spices, but the fact that you have been interested enough to try this quiz would suggest that you are keen to find out more.
You might also like...