Simple Winter Salads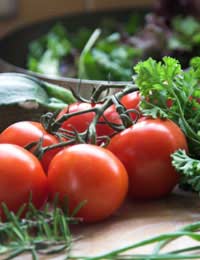 Who says salads are just for summer? While the ingredients might vary the sentiment is the same - a salad is a bowl of healthy, colourful and inviting food that can be eaten any time of the year. Winter salads should make the most of seasonal leaves and vegetables, and they're just as likely to be served warm as cold.
We've got some ideas below but the beauty of a salad is that nothing is really weighed or measured exactly and you can add more or less of what you fancy, swap ingredients around and come up with your own ideas.
Pick and Mix
There are no rules that say salads should only contain leaves - a winter salad is the perfect opportunity for trying out different flavour combinations and adding warm ingredients into the mix. Cheese, nuts, meat and roasted vegetables are all good bases for winter salads, while dressings can be as simple as a drizzle of oil or a squeeze of lemon juice. Here are some ideas to get your creative juices going:
Spinach and Beetroot
Wash a large handful of baby spinach leaves. Wash two small beets, wrap them in foil and bake in a preheated oven, on an oven tray, for about 30 minutes.

About five minutes before the end of cooking, scatter a handful of pine nuts onto the baking tray.
Unwrap the beets and slice, then mix them and the pine nuts with the leaves and drizzle over some olive oil.
Warm Goats' Cheese, Cherry Tomato and Leaves
Fill a salad bowl with your choice of leaves and preheat the grill.
Place a couple of slices of goats' cheese and a pack of cherry tomatoes on grill tray covered with foil and grill for about five minutes, turning the goats' cheese halfway.
Scatter the tomatoes over the leaves and crumble the goats' cheese over the top.
Drizzle with balsamic vinegar and olive oil.
Roast Potato and Feta Cheese
Bake a pack of baby new potatoes in the oven until cooked through and the skins are turning brown.
Place in a bowl, add a handful of chopped mint and crumble over half a block of feta cheese.
Spinach, Watercress and Pistachio
This is a really simple salad that could be served with a lasagne or baked potatoes.
Fill a serving bowl with washed baby spinach leaves and watercress.
Chop a handful of pistachio nuts and scatter these over the leaves.
Mix some olive oil, lemon juice and a dash of honey together and pour over the salad.
Roasted Pepper, Courgette and Red Onion
Slice one red and one yellow pepper in half and remove the stalks and seeds.
Trim two courgettes and slice them lengthways into long, thick strips.
Peel, then slice a red onion into rings.
Place all the ingredients on a baking tray, drizzle over a little oil, shake to mix and then roast in a medium oven for about 20-25 minutes, until the vegetables are cooked through and tender.
Meanwhile, prepare sufficient couscous for four people, according to the pack instructions.
Place the couscous in a serving bowl, roughly chop the vegetables and stir them into the couscous.
If you're fed up with heavy winter food, then a salad makes a great change. The variations are virtually endless and you can adapt your salad to suit the contents of your fridge.
You might also like...