Foods to Avoid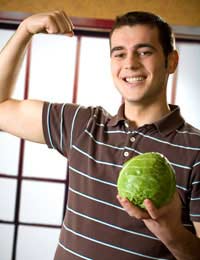 When it comes to eating it's all about getting the right balance. Students will inevitably be on a tight budget when it comes to food and it's not always a priority to maintain a varied and healthy diet when there are so many demands on your wallet. Many students see food as simply fuel and don't pay much attention to what they're eating, as long as it's filling and quick. However, this attitude is not going to do your body or well-being much good in the long run and it's worth spending a little time considering your diet and trying to include some healthy elements amongst the beer and takeaways.
You don't need to spend hours reading cookery books and nutritional pamphlets as most of it will come down to common sense. For example, unless you never open a book or magazine you will be aware that you need to eat a good variety of fresh fruit and vegetables; you shouldn't live off takeaways alone; you should limit your alcohol consumption; and you should eat decent, regular meals. It's unlikely that anyone will follow all these rules all the time but it's good to keep them at the back of your mind and at least attempt to remember them occasionally!
As with many of the good things in life, it comes down to moderation: if you enjoy the occasional big night out or have friends round for a Saturday night takeaway then you shouldn't have anything to worry about. As long as this is balanced out with a basically healthy diet and plenty of exercise and sleep the rest of the time then it's fine to have the odd treat. It is good to be aware of what you should and shouldn't be eating though and when it comes to the types of food that you should limit or avoid there are plenty of them.
Foods to Limit or Avoid
FatWhile we all need a certain amount of fat in our diet, it's important to concentrate on trying to consume the beneficial fats. Unfortunately, these don't really occur in snacks and fast food. While naturally occurring fats in things like meat, nuts and dairy products are all fine to eat in moderation, the saturated fats that are found in crisps, cakes, chocolate etc are of no real benefit and should be eaten only in moderation.
SugarAgain, sugar can't be completely ruled out of your diet and there are many foods that contain naturally occurring sugars, such as fruit and dairy products. However, it's the carbonated drinks, sweets and sugary snacks that you should watch out for. These give your body a huge energy surge that quickly lapses, leaving you feeling hungry again very quickly afterwards. Instead, you should try to eat healthier snacks that contain slow-release carbohydrates, or natural sugars. Things like dried fruit, nuts and wholegrain cereal are a much better choice.

AlcoholIt would be silly to say that alcohol should be completely avoided but it should certainly only be consumed in moderation. Excess alcohol can have many negative effects on your health and binge drinking can lead to long-term physical damage to your heart and kidneys amongst other conditions.
You might also like...