A Healthy Mind in a Healthy Body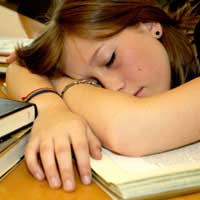 The harder we drive our bodies the less time, it seems, we take to look after them. This is something most students will recognise. Yet at this time of your life, especially, you need all the energy and vitality you can get.
You may be surprised to know that being young does not make you immune from low energy levels. The lifestyle choices of many students -namely too much fast food, not enough sleep, little exercise and too many stimulants - all have a negative effect on your well being.
The old adage - a healthy mind in a healthy body - is particularly apt, so why not answer the questions below to find out if you are pushing yourself too hard and asking too much of your body. Remember we are all different and you alone can decide how satisfied you are with your own energy needs for your way of life.
Do you feel below par a lot of the time?
You can pinpoint this by thinking about an average day in your week. If you didn't do all that you needed to without feeling tired, or if tiredness was making you irritable, you are probably lacking in energy.
How do you go about increasing your energy levels?
Firstly you need to identify likely factors responsible for sapping your strength. You will need to cut down on and eventually eliminate habits contributing to your low stamina and this will vary from one person to another.Among the most likely, you may have to:
cut down on junk food
reduce your intake of stimulants (everything from tea and coffee to alcohol and cigarettes)
start some regular exercise
tackle stressful aspects of your life
Is junk food undermining your energy levels?
You must eat good quality food to boost vitality. That just means eating nutritious food which you enjoy, fresh and unprocessed if possible - think lots of fruit, vegetables and whole grains. Pages on this website offer scores of easy, nutritious recipes and ideas for busy students. If, over a long period, you eat foods which are low in nutrition, you are likely to have low energy levels and dull, unhealthy skin. Poor nutrition can also lead to obesity and other health problems.
Are you missing an obvious clue - dehydration?
Dehydration alone can make us tired and lacking in energy, yet many of us don't recognise the need to replace the fluid we lose naturally by the working of our bodies. We must replace up to three litres of fluids per day. About a litre of that will come from the food we eat, which leaves up to two litres to come from drinking. Drink as much pure water if you can and certainly try to keep other drinks free, as much as possible, from stimulants.
Is exercise part of your life?
Regular exercise is essential if you are to achieve maximum health and energy potential. This doesn't mean rushing off to the gym or taking up a punishing exercise regime. Just get your body moving.
Start small with ten minutes of stretching and a brisk 30 minute walk three times a week. Get off the bus earlier than your regular stop. Take the stairs and not the escalator. Use the pool if there's one on campus. Get as much fresh air as you can and practise breathing deeply. You'll soon start to feel better and the oxygen will flow more efficiently through your body. You just need to get started.
Is stress depleting your energy?
Stress can be one of the biggest causes of low energy. We are all equipped to deal with everyday stress - deadlines, interviews, even exams - and if we are coping well this kind of 'healthy' stress can have a good impact on energy levels. Bad stress occurs when we are not coping well and are overwhelmed by everyday challenges.
Constant, unwanted stress can adversely affect the body's systems, leading to a variety of problems, and often we add to our anxieties without realising it. Perhaps we can't say 'no' to other people and take on too much; or consume too many pollutants On top of that we may exercise too little, or not at all, and fail to plan ahead to help avoid unnecessary stress.
How did you do?
Do you identify with any of these problems? If you do, taking decisive action to deal with them will soon have you recharging your batteries and boosting your health and vitality.
You might also like...