Food to Build Your Body Strength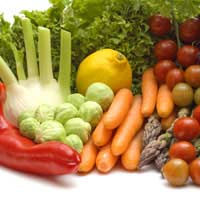 Most of us have heard the maxim 'you are what you eat'. But how many of us realise that what we ourselves choose to eat really can determine, or change, the way we look and feel? Today we are in a position to benefit from the vast knowledge acquired by the research of nutritional scientists and doctors. It shows us that what we choose to consume plays a vital role in fending off or relieving health problems.
You just need to know what foods are beneficial and for what purpose. Here you will find a selection of the foods that will bring you the greatest health benefits.
Help Your Heart and Circulation
To do your best for a healthy heart and good circulation, you need to make sure your body gets a sufficient supply of fatty acids, vitamins C and E, calcium, selenium and magnesium.
One of the richest sources of the omega-3 fatty acid is oily fish such as mackerel, herring, trout, sardines and salmon. Eating oily fish regularly assists in keeping the arteries clear. There are also significant amounts of omega-3 in walnuts and seeds.
Healthy blood vessels, so important for your heart and circulation, benefit from two important vitamins. Vitamin C maintains the health of your blood vessels and protects the essential vitamin E, a leading antioxidant which helps protect against heart disease. You will get all the vitamin C you need from green vegetables and salad leaves, citrus fruit and juices, kiwifruit, blackcurrants, tomatoes, sweet peppers, berries and potatoes. Major sources of vitamin E are vegetable oil, egg yolk, nuts, seeds, polyunsaturated margarine, wholegrains and greens.
Calcium is an important mineral for several major functions in our bodies, but its relevance in this section is its essential role in blood clotting and cell regulation. Major sources of calcium are milk, cheese, yoghurt, bread, greens, almonds, sesame seeds and shellfish.
Another major antioxidant, which works with vitamin E to protect cell membranes and fats from damage, is selenium. An important contributor to good heart function, selenium is found in wholegrain flour, cereals and pulses like split peas, lentils, brown rice, poultry, liver, kidney, meat, and seafood.
Magnesium, an essential nutrient for the heart, is important for muscle tone. It is found in milk, bread, bananas, leafy green vegetables, pulses, brown rice, nuts and shellfish.
Boost Your Immune System
You can do a lot to prevent health problems and avoid disease just by eating foods which will help boost your immune system.
To function well, your immune system needs vitamins A and C. Principal sources of vitamin A are lamb's liver, oily fish, fish liver oil, egg yolk, carrots, whole milk, margarine, butter, greens and full-fat cheese. Vitamin C, a major contributor to our overall health, cannot be stored in the body and needs to be replaced daily. Its best sources are explained above in the heart and circulation advice.
The minerals zinc and selenium are also needed by the immune system to function well. Selenium sources are covered above. Zinc is available in seafood, poultry, meat, pumpkin seeds, lentils, split peas, brown rice, kidneys, raw wheatgerm and other grains, garlic and Brazil nuts.
Strengthen Your Teeth and Bones
Growth and maintenance of healthy bones and teeth is essential for good health. A crucial component of bones and teeth is calcium, which is present in large quantities in the body of a healthy adult. Sources detailed above.
Vitamin D is needed to promote the absorption of calcium into the bloodstream. It is found in oily fish, fish liver oil, yeast, egg yolk and margarine. It is also produced by the action of sunlight on the skin. Magnesium, essential for a healthy heart, is also vital for good bones and teeth. Sources as above in the healthy heart section.
Beta carotene, which the body can convert to vitamin A, is also good for bones and teeth. It is found in dark leafy vegetables, carrots and yellow or orange fruits.
Foods to Keep You Flexible
Joint mobility may not be a problem while you are young, but it is important to eat well to ensure you remain flexible and free of joint problems as you get older.
Vitamin C and beta carotene both have an important function in maintaining joint mobility. Their sources are identified earlier. Selenium too, also covered earlier, is thought to be a vital nutrient for healthy joints. Vitamin A is important in the body's manufacture of the fluid that lubricates joints.
You might also like...