Eating Indian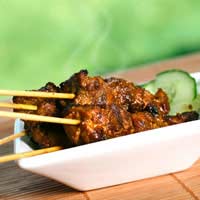 Instead of going out for a curry, why don't you stay in and enjoy a delicious home-cooked Indian meal?
Set the scene with red cloths thrown over your lamp-shades, big bright cushions and some sitar music on the CD player. Or rent a Bollywood DVD!
Serve Indian lager or lassi (see below), poppadums and mango chutney, naan breads and plenty of freshly cooked basmati rice.
Tomato Appetiser
3 ripe tomatoes
¼ cucumber
1 small onion
1 tablespoon lime juice
2 green chillies (optional)
Remove the skins from the tomatoes:
Place in a bowl and cover with boiling water. Leave for a few moments then drain. Cool slightly under running water. Stab lightly with a knife and the skin should split and peel away easily.
Cut the tomato into 8 segments and remove the seeds.
Peel the cucumber and cut lengthways into quarters. Remove the seeds and cut into small pieces.
Peel the onion, then quarter it and slice finely. Combine all the ingredients in a bowl and stir in the lime juice. If you want to add chillies, core, deseed and finely chop them. And don't touch your eyes without washing your hands very thoroughly first!
Cover and chill.
Coconut and Mint Chutney
2 oz mint leaves
6 tablespoons desiccated coconut
1 tablespoon sesame seeds
¼ teaspoon salt
6 fl oz natural yoghurt
Strip the mint leaves from the stems and finely chop. Mix all the ingredients together well: use a blender if you have one. Cover and chill.
Sheek Kebabs
1 teaspoon coriander seeds
1 teaspoon cumin seeds
1 clove
1" root ginger, peeled and grated
1 teaspoon ground turmeric
½ teaspoon ground cinnamon
1 teaspoon pepper
½ teaspoon salt
1 red chilli, cored, de-seeded and finely chopped
500g minced lamb
1 onion, finely chopped
1 egg
Put 8 wooden skewers to soak in water while you prepare the kebabs.
Grind the coriander, cumin, clove and ginger in a pestle and mortar.
If you don't have a pestle and mortar you can use the ready-ground spices but make sure they're fresh.
Mix in the turmeric, cinnamon, pepper and salt. Put the lamb, chilli and onion in a bowl and add the spice mixture. Make a well in the centre and add the egg. Combine thoroughly using your hands.
Divide the mixture into 8 pieces and thread onto the skewers to make kebabs about 4" long. Cover and leave in the fridge for at least 1 hour.
Pre-heat the grill to medium and then cook the kebabs for about 20 minutes, turning occasionally. The kebabs are cooked when you stick a knife in and the juice runs out clear.
Serve with salad and appetisers.
Saffron Chicken
Large pinch of saffron strands
4 chicken breasts
3 tablespoons oil
½ teaspoon ground coriander
1 bay leaf
1" cinnamon stick
1½ tablespoons sultanas
2 tablespoons flaked almonds
Salt and pepper
Place the saffron strands in a small bowl and cover with 4 tablespoons boiling water. Leave to stand while you get on with the rest.
Heat the oil in a frying pan and fry the chicken breasts until browned on both sides. Remove the chicken from the pan and set aside.
Add the coriander, bay leaf, cinnamon, sultanas and saffron, with its soaking water, to the pan. Stir. Return the chicken to the pan. Cover and simmer gently for about 40-50 minutes or until the chicken is cooked. If pierced with a sharp knife the juices should run clear (not bloody!)
Stir in the yoghurt and allow to gently heat through. Remove the bay leaf and cinnamon stick before serving and sprinkle with toasted almonds.
To toast almonds, spread them out on a baking tray and cook in a pre-heated oven at 180oC, gas mark 4, for 10-15 minutes, stirring occasionally.
Mango & Yoghurt Cream
2 ripe mangoes
2 tablespoons lime juice
2 tablespoons caster sugar
½ pint double cream
¼ pint Greek yoghurt
1 lime
Cut the mangoes in half. Remove the stone and peel. Chop the mangoes and mash thoroughly before pushing through a sieve. If you have a blender, just whiz the mango flesh in that.
Whip the cream until stiff. Stir in the yoghurt.
Retain 2 tablespoons of the pureed mango for decoration then add the rest to the cream and mix well. Divide the mixture between 6 serving bowls (glass if you have them). Drizzle a little puree on each and sprinkle with a twist of lime peel.
Use the juice for the Tomato Appetiser.
Lassi
Mix together 1 pint natural yoghurt and 1 pint water. Serve in a long glass with ice.
For a sweet drink, add 4 tablespoons caster sugar and ¼ teaspoon ground cardamom seeds. Serve sprinkled with chopped pistachio nuts.
For a savoury taste, add ¼ teaspoon salt, ¼ teaspoon ground cumin and 1 teaspoon sugar. Serve with a sprig of mint.
You might also like...
What stupid recipes! Who on earth, who is struggling at Uni, has saffron and cinnamon sticks in their cupboard? A better option would be a tin of Pataks or something and the required meat.
NoLongerAStudent
- 13-Jul-11 @ 12:45 PM